This can be also jokingly called ..... an apology from 'weak' Prime Minister Namo --- as Rahul Gandhi claimed coming out of 'Italian-nanny' slumber !!
Hamburg, Jul 7 : Prime Minister Narendra Modi today appreciated "momentum in BRICS" under the Chairmanship of China, and for his part, Chinese President Xi Jinping appreciated India's strong resolve against terrorism and lauded India's success in economic and social development.
"President Xi appreciated India's strong resolve against terrorism and the momentum in BRICS introduced under India's Chairmanship and through the outcomes of the Goa Summit in 2016. He also appreciated India's success in economic and social development and wished India even bigger success," an official statement from the Indian Ministry of External Affairs said.
The leaders of the five BRICS countries - Brazil, Russia, India, China and South Africa held an "informal meeting" on the sidelines of G20 Summit in Hamburg, Germany.
"This was in run up to the forthcoming 9th BRICS Summit in September in Xiamen, China. President Xi of China said he looked forward to welcoming the BRICS leaders," the statement said.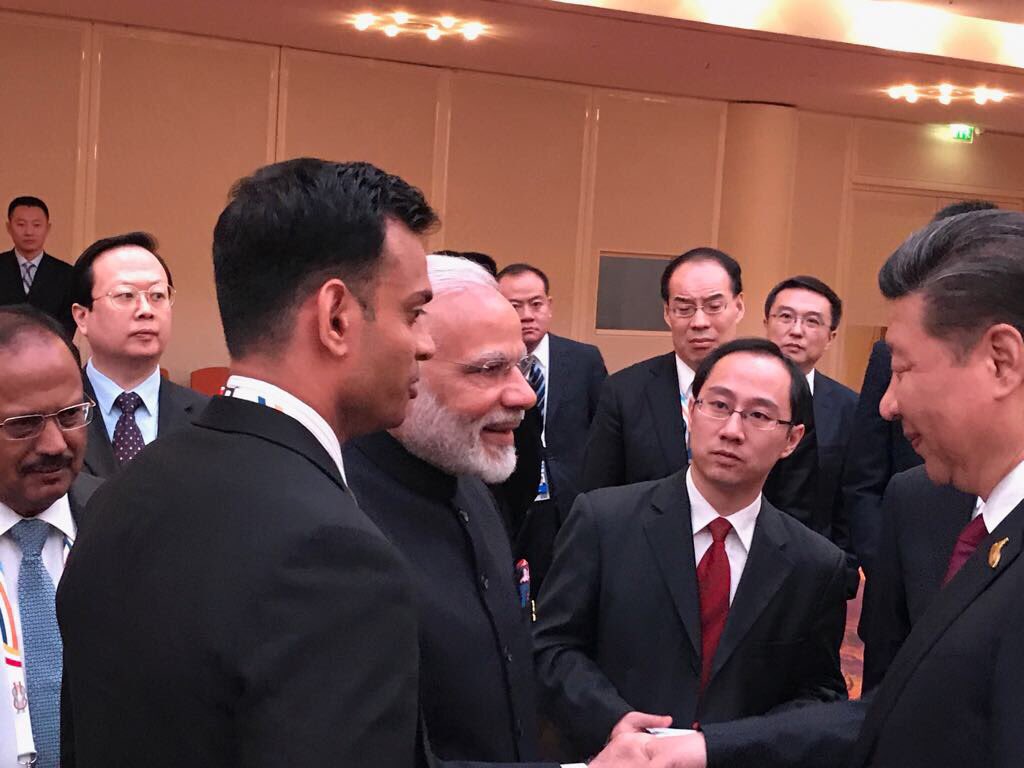 Pleasantries Amid Tenssions
.
Prime Minister Modi in his address mentioned that BRICS has been a "strong voice and needs to show leadership" on terrorism and global economy.
Prime Minister appreciated "momentum in BRICS" under the Chairmanship of President Xi and extended full cooperation and best wishes for the BRICS Xiamen Summit.
Concluding the meeting immediately after Mr Modi's remarks, President Xi appreciated India's strong resolve against terrorism and also "wished India even bigger success" in economic field, the MEA said.
In his address, Mr Modi "called for expeditious action to establish BRICS rating agency and stated that cooperation on development of Africa should be a priority". He also called for greater people-to-people exchanges.
Mr Modi stressed that G20 should collectively oppose terrorism financing, franchises, safe havens, support and sponsors.
Referring to reforms in India, including the recent introduction of GST, the Prime Minister described it as "the biggest reform" in India during past seven decades. "This will create a unified market of 1.3 billion people," Mr Modi said.
The Prime Minister said it was necessary to work together for sustained global economic recovery.
He advocated collective voice against the practices of protectionism, especially in the spheres of trade and movement of knowledge and professionals.
He reiterated India's commitment to implement Paris Agreement in "letter and spirit" and described its implementation globally as essential to fight climate change.
India pitches for 'ban' on terror-sponsoring nations, G20 leaders vow to eliminate 'terror havens'
India made a pitch for crackdown and joint actions on terror and strongly insisted that there should be ban on entry of representatives and officials of those countries who are allegedly involved in aiding and supporting terrorism to the G-20 countries.
"Representatives and officials from these countries should be banned from entering G-20 countries...... There is utmost need for creating a deterrent against those countries who are providing support to terrorism and terror elements," Prime Minister Narendra Modi said here presenting a 11-point "action agenda" to fight terrorism.
In a major endorsement to Mr Modi's stance, a joint declaration on countering terrorism adopted on the first day of the G20 Summit here, said among other things that: "Terrorism is a global scourge that must be fought and terrorist safe havens eliminated in every part of the world".
It said said border agencies will strengthen cooperation to detect travel for terrorist purposes, including by identifying priority transit and destination countries of terrorists.
"We will address in close coordination the evolving threats and potential vulnerabilities in aviation security systems and exchange information on risk assessments," the declaration said.
"There should be no 'safe spaces' for terrorist financing anywhere in the world. However, inconsistent and weak implementation of the UN and Financial Action Task Force (FATF) standards allows them to persist. In order to eliminate all such "safe spaces", we commit to intensify capacity building and technical assistance, especially in relation to terrorist financing hot-spots," it said.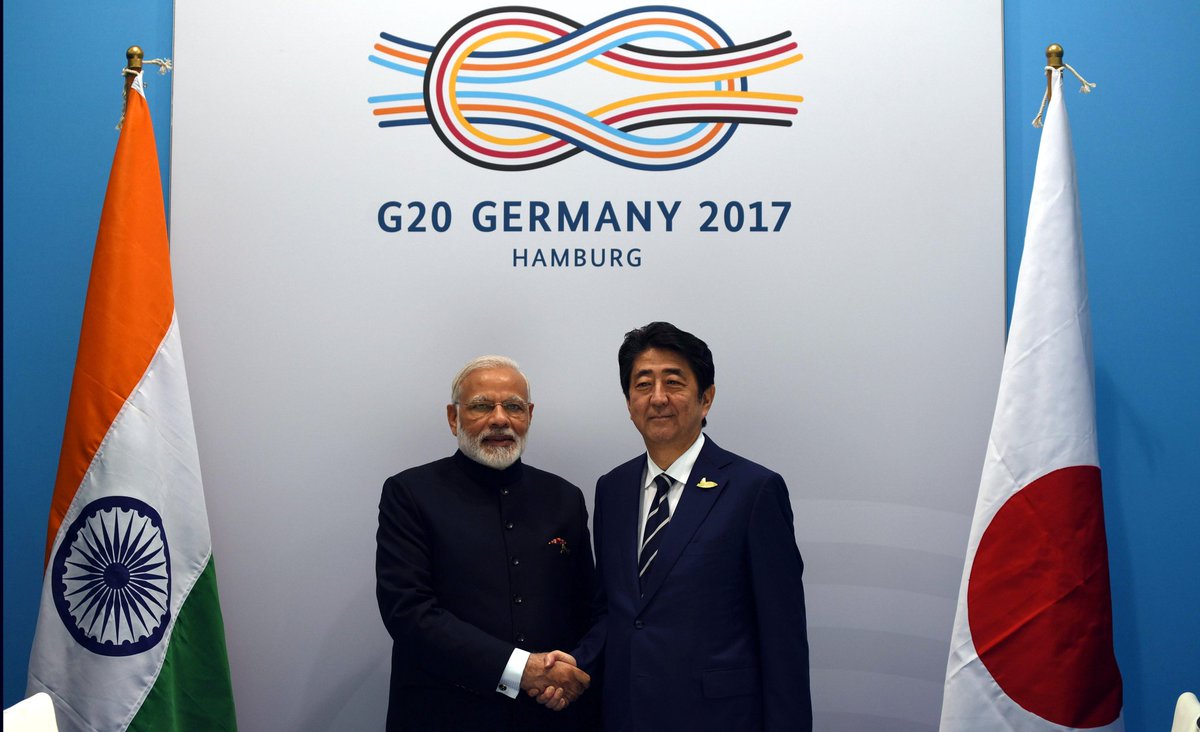 Modi with Japanese PM


"We call for strengthening measures against the financing of international terrorist organisations in particular ISIL/ ISIS/ Daesh, Al Qaida and their affiliates," the declaration said.
The declaration also mentioned about steps to counter radicalisation especially through the use of internet for terrorist purposes.
"Our counter terrorism actions must continue to be part of a comprehensive approach, including combating radicalisation and recruitment, hampering terrorist movements and countering terrorist propaganda," it said.
The leaders also vowed to exchange best practices on preventing and countering terrorism and violent extremism conducive to terrorism.
"We stress that countering terrorism requires comprehensively addressing underlying conditions that terrorists exploit. It is therefore crucial to promote political and religious tolerance, economic development and social cohesion and inclusiveness, to resolve armed conflicts, and to facilitate reintegration.
We acknowledge that regional and national action plans can contribute to countering radicalisation conducive to terrorism," the declaration said.
Among other things, Prime Minister also demanded joint action by G20 countries against all "named and identified terrorists" and that the list of terrorists from each member nation should be distributed among all the member nations.
He suggested that extradition and other legal process involving terrorists should be "simplified" and further expedited.
Another point as suggested in the Action Agenda by PM Modi included mutual cooperation on cyber security creation of a mechanism of National Security Advisors on Counter Terrorism.
Speaking as the lead speaker at the second working session on sustainable development, climate change and energy, PM Modi said developing countries must have enough room to grow.
He also proposed setting up of an international coalition of countries that can identify technology, develop systems and build capacities.