Lesson learnt from Indira - Admitting mistakes better than justifying the acts: Pranab
New Delhi, Jul 23 If there is a single big thing that a serving politician or even an individual could learn from Indira Gandhi -- according to President Pranab Mukhejee - is "acknowledging" of own mistakes.
"Self correction ...is always a better option than self-justification," Mr Mukherjee said speaking at a function in the Central Hall of Parliament where members of both Houses bid him farewell here today.
Lauding among other things, the Late Prime Minister Indira Gandhi's "steely determination, clarity of thought and decisive actions", Mr Mukherjee said his career as a Parliamentarian was mentored by Indira Gandhi only.
Mr Mukherjee recalled that during her London visit after election defeat in 1978, when she was grilled by the journalists at Heathrow Airport - on what she "gained" from the Emergency, Indira Gandhi had replied: "In those 21 months, we comprehensively managed to alienate all sections of Indian people".
Mr Mukherjee said her reply was admission of the 'mistakes' and her response was received by "a big silence followed by loud laughter".
President said after that no question was asked to her.
In the process, Mr Mukherjee said, "I also learnt an early lesson of acknowledging my mistakes and rectifying them".
In Parliament premises: July 23, 2017
"Self-correction in such situations is always a better option than self-justification," he said.
President Pranab's last word of advise to Modi Government -- Do not rush with Ordinances
Members of Parliament - cutting across party lines and a few former members - today bade farewell to the outgoing President Pranab Mukherjee, whose stint ends tomorrow.
"Mahoday, ever since you first entered Parliament in 1969, you have enriched and strengthened our Parliamentary democracy with varied expertise, vast contributions and great wisdom," said
Lok Sabha Speaker Sumitra Mahajan at a solemn function organised in the Central Hall of Parliament.
Speaker also called Pranab a 'Guru' for other Parliamentarians.
Vice President Hamid Ansari, Prime Minister Narendra Modi, union Ministers, senior lawmakers like Sonia Gandhi, L K Advani and two former PMs Manmohan Singh and H D Deve Gowda and former Lok Sabha Speaker Shivraj Patil were present on the occasion where everyone seemed to have turned emotional as they bade adieu to 81-year-old Mr Mukherjee.
Vice President Hamid Ansari lauded Mr Mukherjee for his "unshakable belief in the idea of India" and that the outgoing President strongly cherished that pluralism and diversity forming "the greatest strength" of the country.
"He brought great distinction and dignity to the top office. His views on national and international issues have enhanced the stature of the office," Mr Ansari said and recalled his views on the role of Governors.
For his part, Mr Mukherjee sounded nostalgic more than once as he recalled how Indira Gandhi mentored him and how he has benefited over the years from the past masters like Hiren Mukherjee, Bhupesh Gupta, Atal Behari Vajpayee and even the likes of P V Narasimha Rao, Manmohan Singh and L K Advani.
Mr Mukherjee made a departure from his prepared text of the speech and said extempore that over the years he has also benefited "by the passionate support of Sonia Gandhi for social legislation".
As a virtual last words of wisdom, he cautioned the incumbent government against Ordinance route in bringing about new laws.
"....there should be no recourse to Ordinances on monetary matters". The Ordinance route should not be taken on matters which are being considered or have been introduced in the House or if before a committee of the House.
The President's terse message on Ordinance route often adopted by the Modi Government -- especially in first two years of its coming to power in 2014 and 2015 -- is significant as in the first two years till May 2016 -- the Narendra Modi-led dispensation had as many as 21 Ordinances promulgated.
Mr Mukherjee also said that : "When Parliament fails to discharge its law-making role or enacts laws without discussion, I feel it breaches the trust reposed in it by the people of this country".
He asked the members to avoid frequent disruptions of Parliament proceedings and said, disruptions mostly hurt the opposition more than it hurts the government.
He said, "I leave this magnificent building with a rainbow of memories and a sense of fulfilment and haPresident Mukherjee, who had a long association with Indian Parliament since his first election to the Rajya Sabha in July 1969, lamented that parliamentary time devoted to legislation has been "declining".
"With the heightened complexity of administration, legislation must be preceded by scrutiny and adequate discussion. Scrutiny in committees is no substitute to open discussion on the floor of the House," Mr Mukherjee said.
He went onto sound his displeasure on trend when bills are often passed by either Houses of Parliament or both without debate and said: "When the Parliament fails to discharge its law-making role or enacts laws without discussion, I feel it breaches the trust reposed in it by the people of this country".
Stating that he had a "tenacious link" with Parliament, the veteran Parliamentarian - who was elected to the Rajya Sabha five times including once from Gujarat - and twice from Lok Sabha, said "disruption (of proceedings) hurts the opposition more than the government as it denies them the opportunity to raise the concerns of the people".
Quoting Pt Jawaharlal Nehru, the President said the system of parliamentary democracy embodies the principles of "change and continuity".
"If continuity is broken, we become rootless and the system of parliamentary democracy breaks down".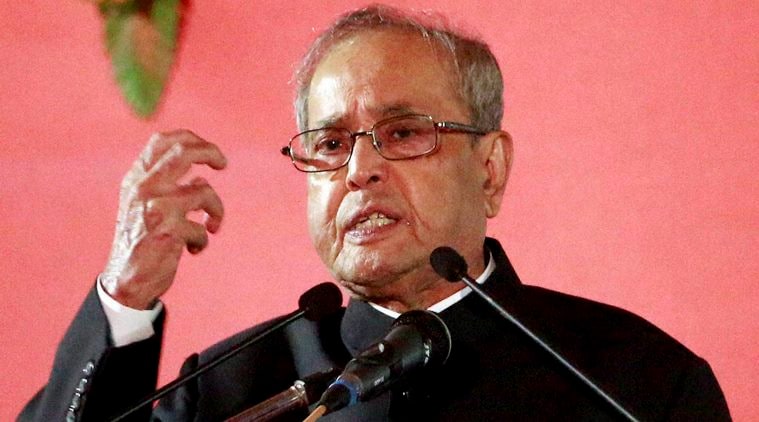 Describing himself as "a creation of this Parliament", outgoing President said that his years in Parliament were enriched by many leaders.
He, however, credited the late Prime Minister Indira Gandhi as his mentor, and said, ''My years in Parliament enriched by many leaders. My career as a parliamentarian was no doubt mentored by Indira Gandhi. She was a towering personality. She never hesitated to call a spade, a spade".
Speaking at a function in the Central Hall where members of both Houses of Parliament - including some former members - bid him farewell, President Mukherjee said,''when I first entered the hallowed Parliament, I was 34-years-old. I represented one of the six seats from Rajya Sabha".
"The first session I attended began on July 22, 1969.
"If I say I am the creation of this Parliament, perhaps it will not be treated as immodest. It is with a tinge of sadness that I will leave this magnificent building," said Mr Mukherjee.
Mr Mukherjee was handed over a momento and also a booklet signed by most sitting members of Parliament.
ends