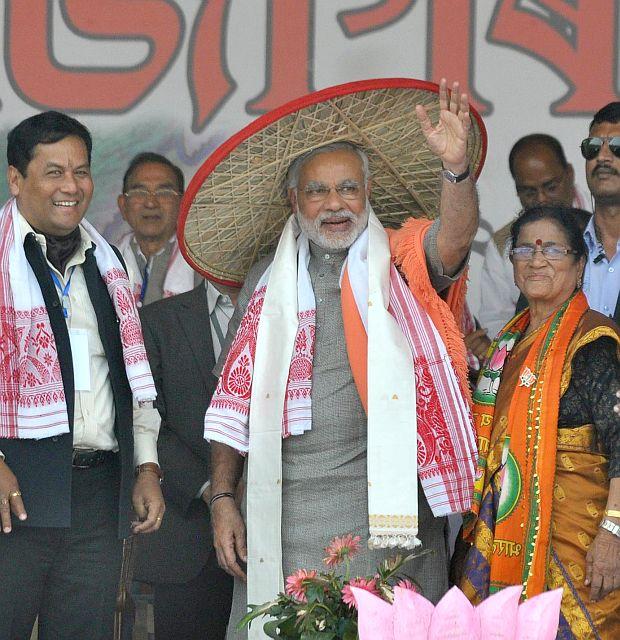 Sarbanand Sonowal is all smile! BJP is in a predictable triumphant mood.
The change of regime in Assam has many tales. One such a layer is of course like a day-dream -- the dream about a new Assam. These glimpses of optimism are also punctuated by elements of desperation.
Ekta bhal government paam niki
– Will we ever get a good government?
Thus my argument is Assam poll results are
more than mere change of regime as is traditionally understood. The electorate in this governance-starved state has voted out both Congress and the regional outfit AGP more than once. Thus the helpless voters – hit by insurgency, corruption, a 'lahe-lahe work culture and also natural disasters – are actually looking for a new polity and a refreshing administrative system itself.
With these issues in mind, people had voted for BJP overwhelmingly in 2014 Lok Sabha elections and continued the same spirit in 2016 too.
This mandate from Assam is actually a clamor call: please deliver!
So the question that begs answer can an 'effective and purposeful alternative' regime be offered by the BJP – of course assisted by powerful Narendra Modi phenomenon ? Can the new dispensation likely to be headed by Assam's second tribal chief minister bring in new standards of economic honesty, political inclusiveness and administrative transparency?
To start with, this year's Assam polls also have been elections of tribals and about tribals. So on this front the new state government has to act first and show quick results.
The story of agony of Assam is incomplete without the tales of sufferings and neglect of the Adivasis along with the hardships in Bodo areas or the issue of illegal migration from Bangladesh. To make it worse, a few Congress leaders in the past added insult to the injuries on Adivasis, generally given to tea-planters.
Not long ago, P R Kyndiah, a controversial Congress leader in Meghalaya, as the union Tribal Affairs Minister under Manmohan Singh had said, "Considering ST status for Adivasis would involve examining the case using the criteria of tribal characteristics including a primitive background and distinctive cultures and traditions". The then Home Minister Shivraj Patil, also considered close to Sonia Gandhi, had said that these Adivasis "had lost their tribal characteristics".
The Adivasis have thus turned more assertive and had reasons to go anti-Congress.
The Adivasis had even endorsed the path of noisy demonstration and violence. On November 24, 2007 in Beltola, there was 'clash' between Adivasis demanding ST status and the 'locals (that is Assamese)'. Not quite surprisingly, the United Liberation Front of Asom (ULFA) through its mouthpiece 'Swadhinta' had alleged that some politicians were trying to 'separate' the Adivasis and tea tribes of Assam from the other Assamese.

Two militant outfits — the Birsa Commando Force (BCF) and the Adivasi Cobra Militants of Assam (ACMA) – also had joined the All Adivasi Students Association of Assam (AASAA), All India Adivasi Students and Youth Association and Adivasi Mahila Parishad to set an ultimatum to the Centre demanding ST status.
But overall governance is a different ballgame in Assam. It is a state known for lahe-lahe (take it easy) work culture hence catastrophic changes in governance delivery level once Sarbanand Sonowal is coronated as chief minister is beyond consideration. Then there are instances of promising of moon.
Besides the scheduled tribe status for some select tribes, the new regime is expected to act on Bangladeshi foreign national issue. How and by when can he resolve the issue will be a big puzzle for Sonowal, who himself knows pretty well all the complexities involved!
But
centre and BJP leader say there are definitely some actions happening. The Broad Gauge (BG) line between Lumbding and Silchar is now a reality. The goods train in this section has been flagged off.
Railway officials in Delhi say interiors in the states of Manipur, Mizoram and Tripura will also be on broad gauge gradually. These are long pending demand and these three states including Barak valley in Assam are dependent on this line for supply of food grains, fertilizers and petroleum products. Some issues remain related to hyrdo electric power project too. The natives of Assam along with anti-big river dams and also Assam BJP had in the past opposed the 2000 MW Lower Subansiri hydroelectric power project.
Sonowal has promised about concrete steps on the flood management. This is again easier said than done as natural calamity visits Assam regularly every year.
Whom can he blame?
BJP has drawn out an elaborate 2016-2025 Vision Document and promises among other things law to punish those who employ Bangladeshi infiltrators. This is a complex matter as the moment Sonowal is asked on how to deal with this promise, a simple answer is "smile".
Moreover the promises like sealing of border too would be quite unrealistic. It is a central subject and there is a court directive already to that effect. But making a forward movement on the same is a challenge by itself. More such issues can be discussed.
Never in its electoral history, Assam polls had generated so much interest nationally.
Among the states that went to polls in April and May 2016, the battle for Assam had turned the mother of elections for the year in more ways than one.
Assam battle was a war of prestige for Congress and BJP as BJP's triumph card Narendra Modi failed to bring any electoral success in 2015 - both in Bihar and in Delhi. For Congress, retaining power in Assam would have been a face saver for Rahul and the dynasty. But wishes are not horses!
The reality is : there will be a new government and it has to perform.
This tail piece is indeed synonymous with "moral of the lesson".
A former Congressman turned BJP poll strategist in Assam on Thursday said the dynastic politics of the opposition party led to its defeat in the north-eastern state.
The Congress also needs to do some introspection and change its style of functioning, BJP leader Himanta Biswa Sarma told Times Now.
"The Congress is run on a concession basis. (Congress president) Sonia Gandhi made Rahul Gandhi the party vice president not because of merit but he is her son. Similarly, Rahul conceded some ground to Assam chief minister (Tarun Gogoi)," he said.
"This culture of concession starts from 10 Janpath and goes down to the panchayat level. As many as 34 of the 126 Congress candidates in Assam were sons and daughters of big politicians," he added.
Sarma, a minister in the Tarun Gogoi-led government in Assam, left the Congress following conflict with the chief minister and joined the BJP in 2015.
"Rahul Gandhi should make the Congress a normal opposition. To keep the party growing, he has to change. This is a clear message. He is no god, and should not behave like one," the BJP leader said.
"You (Rahul Gandhi) became the Congress vice president because you are the son of Sonia Gandhi. You made Gaurav Gogoi an MP over and above the normal 'karyakarta' of the Congress because he is the son of Tarun Gogoi. This politics has been rejected by the people of India," the BJP leader added.